DIY Crepe Paper Flower Carnation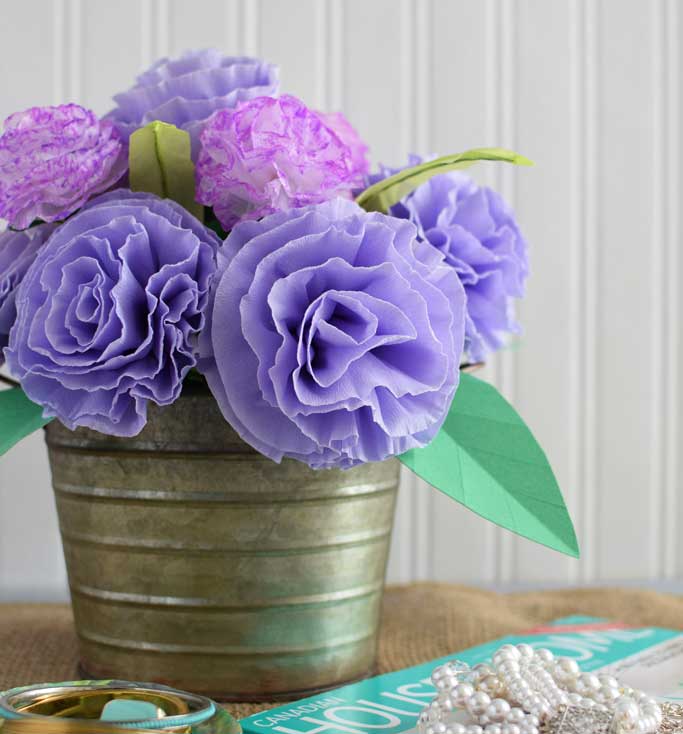 ~Paper Flower Wedding Centrepiece Series~
The first tutorial in the DIY Paper Flower Wedding Centrepiece Series is the DIY Crepe Paper Flower Carnation! The carnation was one of the "large" flowers in my wedding centrepiece, and therefore, set the colour tone.
*****
Just a few general comments before you dive right into the DIY Crepe Paper Flower Carnation tutorial:
TOOLS
In practically every paper flower project, you will need:
floral tape
floral wire (eg. 22 gauge)
floral stem wire (eg. 20 gauge)
scissors
small plier
glue gun
petal or leaf template
MATERIALS
For all of my paper crepe flowers, I only used crepe paper from The Paper Place on Queen Street West in Toronto. They recently updated their website so now you can purchase online and shipped directly to your home (YAY!!!). They sell crepe paper in various colours, single colour and double colours. A single colour crepe paper sheet measures 20" x 90" (50 cm x 229 cm). Each sheet is folded 22 times (4.1 inches across per fold), width-wise, for ease of carrying and packaging. They also only carry 60 gram crepe paper which is much thinner and lighter than the 180 gram crepe paper that Carte Fini carries. I have used crepe paper from Carte Fini before (when I attended a paper flower workshop hosted by the lovely Phoebe Lo of Blossom and Bloom), and the 180 gram crepe was divine!!!
For the DIY Crepe Paper Flower Carnation, here are some additional tips:
1. For this particular flower, I used 60 gram crepe paper in french violet.
2. I used 22 gauge floral wire3. I used a 20 gauge stem wire (46 cm or 18" in length). For my floral arrangements, given the size of the flower pots, I knew that none of the main flowers would need to have a long stem. As such, I was able to make 2 flowers from each stem wire by cutting each stem in half into 2 stems.4. When cutting the crepe paper (and templates) always cut any pattern along the grain. Any leaf or petal should have its length along the grain in order to permit for any manipulation of the crepe paper. You can download the template for the stem receptacle and leaves here.5. The looser the rolls, the easier it is to create petals that fan outwards resembling carnations.6. If you intend to use the flower within a large arrangement, skip Step 8 and 9 entirely. Don't waste your time with the receptacle, stem, and leaves. No one will be able to see them.7. To maximize the use of the crepe paper, I removed 8 folds from one end, only using the remaining 14 folds (i.e. 146 cm). Then, without unravelling the 14 folds, I partitioned and cut the length of the folded crepe paper into 5 equal parts, each about 10 cm in width. With the other part of the crepe paper sheet (the sheet with only 8 folds), I did something similar, but cutting it into 6 (rather than 5) equal parts. This meant that for each crepe sheet, I could get 5 large carnations and 6 smaller carnations. Given that each centrepiece and bouquet required at least 4 large carnations, the smaller carnations were used as filler flowers.**Tips #1, 3, 5, 6, and 7 relate back to the 5 objectives I had when planning my wedding. You can read more about my planning and thought process in my previous post, DIY Paper Flower Wedding Centrepiece: Planning**UPDATE (as of September 20, 2016): I have found that I could make more delicate blooms without folding the crepe paper lengthwise as per Step 2. Instead of using a 10 cm wide piece of crepe paper, I use a 5 cm (2 inch) wide piece instead. I used this technique with the carnations I made in French Vanilla. The resulting blooms are similar to the DIY Crepe Paper Flower Carnation 2-Tone, except with a slightly larger bloom. 
*****
And with that, feel free to dive right into the DIY Crepe Paper Flower Carnation Tutorial!
Next week, I will teach you how to make a 2-tone carnation, which is a variation of the DIY Crepe Paper Flower Carnation, but which adds an extra "umph" to any DIY paper flower wedding centrepiece. Have a great weekend!
*****
Check out my other DIY Paper Flower tutorials here:
DIY Crepe Paper Flower Carnation
DIY Crepe Paper Flower Carnation 2-Tone
DIY Tissue Paper Hydrangea - Improved
DIY Paper Flower Hanging Glass Globes
DIY Crepe Paper Flower Sweet Peas
And other helpful posts from my DIY Paper Flower Wedding Centrepiece Series here:
DIY Paper Flower Wedding Centrepiece Series: Planning