DIY Crepe Paper Flower Carnation 2-Tone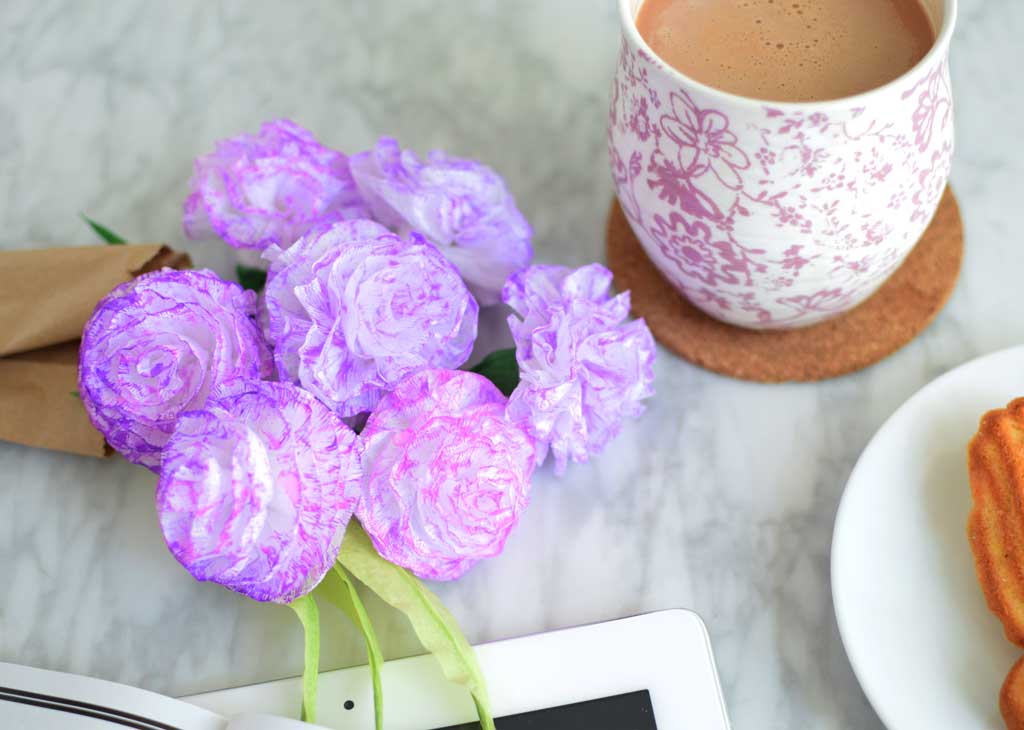 ~Paper Flower Wedding Centrepiece Series~
These DIY Crepe Paper Flower Carnation 2-Tone are a fantastic way of adding colour, tone, and depth to any wedding flower arrangement or flower wedding centrepiece.In my previous post (DIY Crepe Paper Flower Carnation), a single colour crepe paper was used. In this tutorial, these DIY Crepe Paper Flower Carnation 2-Tone use a blank white canvas on which you can apply any colour(s) to thereby creating a 2-tone carnation. This carnation tied my white flowers and purple flowers together and really brought my own DIY Paper Flower Wedding Centrepiece together.
Before you start, here are some general comments:1. For the petals for this flower, I simply used white paper crepe streamers from a party shop. They come in a roll and in various standard colours. I bought one large package, 500' or 152 m, and I ended up using only half of the roll for all of my 2-tone carnations in my 17 centrepieces and 6 bouquets (each used at least 4 2-tone carnations). Streamers have much less stretch than the crepe paper, so you have to be extra patient when manipulating them as they can easily tear.
2. I used 22 gauge floral wire
3. I used a 20 gauge stem wire (46 cm or 18" in length) and cut them in half into 2 stems.4. When cutting the crepe paper (and templates) always cut any pattern along the grain. Any leaf or petal should have its length along the grain in order to permit for any manipulation of the crepe paper. You can download the template for the stem receptacle and leaves here. Like the DIY Crepe Paper Flower Carnation, I used 60 gram crepe paper in leaf green from The Paper Place.5. The looser the rolls, the easier it is to create petals that fan outwards resembling carnations.6. If you intend to use the flower within a large arrangement, skip Step 7 and 8 entirely. Don't waste your time with the receptacle, stem, and leaves. No one will be able to see them.7. Use washable markers to apply colour so that it can easily be removed from your hand. The last thing you want is your hands to be covered with ink! I used 2 Ultra-Cean Washable Crayola markers in wild orchid and tropical violet applied one after the other to create additional depth and tone.
**Comments #1, 3, 5, 6, and 7 relate back to the 5 objectives I had when planning my wedding. You can read more about my planning and thought process in my previous post, DIY Paper Flower Wedding Centrepiece: Planning**
*****
Below is the tutorial for the DIY Crepe Paper Flower Carnation 2-Tone. Have fun!
*****
Check out my other DIY Paper Flower tutorials here:
DIY Crepe Paper Flower Carnation
DIY Crepe Paper Flower Carnation 2-Tone
DIY Tissue Paper Hydrangea - Improved
DIY Paper Flower Hanging Glass Globes
DIY Crepe Paper Flower Sweet Peas
And other helpful posts from my DIY Paper Flower Wedding Centrepiece Series here:
DIY Paper Flower Wedding Centrepiece Series: Planning
Purple and Gold Floral Wedding Centrepieces